preface -find out which Polaris pool cleaner is best for your pool and your needs
Having an in-ground pool is not only a hefty expense, but it's also a huge responsibility. Of course, you have to worry about safety - especially when children are involved.
But another hidden hassle of in-ground pools many perspective pool owners don't take into consideration is maintenance.
Not only do you have to keep the pH and chlorine levels in your pool balanced to ensure the water itself stays clean, you also have to worry about solid debris littering your pool as well. A dedicated and connected exterior solid-debris filtration system in addition to the one that comes with your pool, however, can be prohibitively costly.
This is why many prefer cheaper, self-powered pool cleaners that go underwater and can directly clean every inch of the bottom surface of your pool.
One of the industry leaders in such devices is Polaris, and you have even seen such machines at work if you've ever been to a public pool or at a friend's house who owns one.
Polaris Pool Cleaner Comparison
Before you start blindly shopping for a pool cleaner of you own, however, you might want to refer to this handy guide to three of Polaris's best pool cleaners that breaks down each model's most helpful features.
Polaris Vac-Sweep 3900 Sport Pressure-Side Pool Cleaner
The most common type of in-water pool cleaner is either a standard suction type cleaner or a type powered by water pressure - in many cases with a booster pump sold separately. These type of pool cleaners are powered by shooting out a stream of water that draws floating and errant debris into a collection bag that is emptied out when removed.
The return water of your pools filtration system is also what propels the cleaner around the bottom surface of the pool and enables it to operate automatically without any need to control it yourself.
Pressure-side pool cleaners are often much preferable to suction type cleaners because not only do they use the pressure of the return water to propel them underwater, they are also handy when it comes to handling bigger pieces of floating debris such as leaves. This is due to the larger throat design diameter of pressure side pool cleaners.
Most pressure side pool cleaners require special plumbing in the pool itself to accommodate them and their return water valves. But Polaris manufactures pool cleaners that can use a booster pump and a hose that uses the return water flow to power it.
Vac-Sweep 3900 Spare Parts
Need some spare parts for your 3900? Check out the merchants below.
Popularity Contest
Their most popular pressure side cleaner model is easily their Vac-Sweep 3900 Sport, and one look at all its features explains why. It comes with excellent vacuum power, is convenient and provides a hefty amount of durability and reliability.
The Vac-Sweep 3900 works in all in-ground pools regardless of depth and comes with 3 jets, and boasts the most powerful vacuum performance of any comparable 3-jet pressure side cleaner. It comes ready to connect to a 1.5-inch dedicated pressure cleaner line or can be used with the return water valve.
Coming with a dual-chambered zippered SuperBag, naturally it can pick up and store more debris than comparable models. This means not only is it easier to operate and maintain, you won't have to change the bag out as often as you would with other units. It can circulate an additional 40 gallons of water per minute through this filter bag.
Cleaning Features
This Polaris pool cleaner comes with an advanced hose enhancement called the TailSweep PRO. This blows debris out of the bottom corners of the pool and other such hard to reach places where loose solid pieces tend to accumulate. But it manages to produce this action without any water spraying outside of the pool. This keeps the walkways dry to reduce falling hazards and doesn't get any surrounding surfaces wet either.
Drive System
It also uses a PosiDrive all-wheel drive system and stainless steel chain that can deliver 50 percent more torque than other comparable models. This allows it to move underwater a lot faster with much less drag resistance, resulting in smooth operating for long periods of time.
But what happens if the Vac-Sweep 3900 Does Get Stuck?
It features an auto-reverse technology that allows it to free itself anytime it gets stuck. Forward and reverse thinking.
What's in-the-box?
It comes with the cleaner module, a 31-foot hose kit, an inline back-up valve and easy-to-understand operating instructions. Though the booster pump does come separately, it's not too expensive and is easy to install on the main unit.
Warranty
Polaris offers a 2-year warranty on the whole unit with a 2-year warranty on the cleaning heads and a 5-year warranty of all port valves so long as it's purchased from an authorized dealer or ordered from the manufacturer themselves.
Polaris Vac-Sweep 360 Pressure Side Pool Cleaner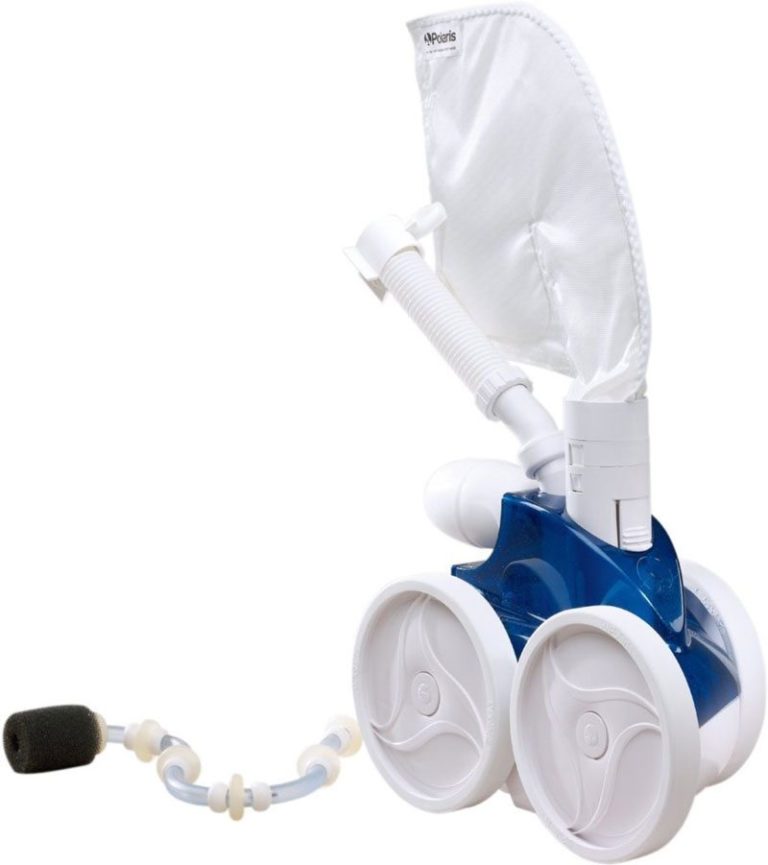 If you however still feel comfortable with a pressure side pool cleaner, Polaris excels in these models. The only major drawback to the majority of them is that a booster pump is required to help operate the suction of such cleaners.
While this makes a pressure side cleaner easier to operate, it also means that you have to spend an extra expense of an additional separate component and that you'll have to pay for in addition to the cost of the pressure side cleaner unit itself.
There are some pressure side cleaners that require you to have a pool with a pressure side valve connected to the pool's filtration system. but unless you have a pool that comes with this valve, you won't be able to operate these cleaners without a booster pump on standard in-ground pools that don't have these valves.
Polaris has such a wide array of pool cleaners that it should come as no surprise that they have designed a solution to this dilemma of having a pool without pressure side cleaner accommodations.
This solution comes in the form of their Vac-Sweep 360 Pressure Side pool Cleaner. This extremely rugged and innovative model operates using any pool circulation jump, not just one specifically made to interact with a pressure side cleaner.
Now, you can use such a model without having to reconfigure your pool's circulation system to specifically interact with it, nor will you need to buy a separate booster pump. This not only saves you extra money, but it's much easier to set-up and use as a result.
In addition to this feature, the Vac-Sweep 360 comes with many of the best traits of Polaris's other excellent pressure side cleaners.
It comes with a single, rather than dual, chamber filter bag that can capture larger debris like leaves and small pebbles. It also comes with 3 cleaning jets and an all wheel drive system that lets it travel in the water faster for extended periods of time.
It's powered by the pressure of the return clean water system built into your inground pool (and uses this to get around corners), and it sweeps, scrubs and vacuums all the underwater surfaces in your pool.
This leaves the filter and your skimmer free to remove smaller and micro-sized contaminants rather than get clogged up by larger pool debris - thus adding to the longevity of your pool's filtration system. It also has an in-line valve with the ability to free the 360 if it gets cornered and can keep on cleaning without any interruption.
Included
This Polaris pool cleaner model comes with the cleaner module, a 31-foot hose kit, an inline back-up valve and easy-to-understand operating instructions.
Warranty
Polaris offers a 2-year warranty on the whole unit with a 2-year warranty on the cleaning heads and a 5-year warranty of all port valves so long as it's purchased from an authorized dealer or ordered from the manufacturer themselves.
Polaris 9550 Sport Robotic In-Ground Pool Cleaner
clean sweep
Although pressure side cleaners are excellent at picking up large debris, there are so many moving parts to them that it can be easy for pool accessories to get tangled up in them or for the hose or filter bag to get stuck on submerged ladders or other protrusions under the water inside your pool.
Pressure side cleaners are mostly reliable and offer excellent performance, but often they do require an occasional bit of monitoring to ensure that nothing goes awry.
This is fine for those who can see the bottom of their pool from their house window or only intend to clean with one while watching it.
But some pool owners want a truly fully-automated pool vacuum cleaner that requires absolutely no monitoring and is designed to prevent any entanglements or difficulties while operating.
Enter the robotic in-ground pool cleaner.
This Polaris pool cleaner is fully automated with no hose to get stuck on, no exterior filter bag to make it hard to move around and no additional accessories or connections needed in order to operate it.
Instead, a robotic pool cleaner uses a wheel-based drive system to clean your pool. It's a self-directed, low voltage pool vacuum that uses suction on the floor, steps and walls of an in-ground swimming pool and is connected to a power outlet via a 30-100 ft waterproof power cord.
It uses a water pump to suck in dirt and a drive motor to move it around or sometimes a jet drive. Often, they can be programmed to learn which path is most efficient at cleaning your pool's surfaces - meaning they can save you lots of money by finishing up quicker than most other types of cleaners. that use your pool's own filtration system.
That most definitely describes Polaris's robotic pool cleaner, the 9550 Sport Robotic In-Ground Pool Cleaner. This model uses a 4 wheel drive system with Aqua-Trax tires to promote better mobility and faster cleaning underwater for any and all of your pool's underwater surfaces.
It also comes with an ActivMotion sensor system to help it navigate underwater, especially in large scale or free form pool designs with no right angles.
The suction used to clean with utilizes Vortex Vacuum technology which allows it to pick up larger debris while still being able to maintain the maximum amount of suction possible.
But this is not all. Its rear water propulsion system (yes, it uses a jet drive rather than a traditional drive motor) allows the Polaris 9550 to fetch debris under the steps and in tighter corners due to its high maneuverability. But just be sure to remove any solar heat rings or inflatables in the pool, or the robot may attempt to gobble them up.
Filter-Free
It also doesn't use any filter bags, interior or otherwise, and instead uses a large capacity filter canister. This means you only have to empty this canister and replace it when cleaning it out. This reduces the need to deal with messy filter bags.
Finally, this model comes with a seven day programmable timer with built in programmed cleaning paths (patterns) that you dial in with the motion sensing hand held remote.
This means you can set this model to clean along a programmed path every day without you have to actually be there to monitor its progress. This is why it can be labeled as a truly automatic pool cleaner.
Warranty
It comes with a two-year limited warranty on the unit and 5-year warranty of certain components.
Polaris Pool Cleaner Conclusions
There are, of course, other manufacturers of pool cleaners we could also recommend. These are fine devices that perform sufficiently enough to get the job done. Polaris, however, has a much wider array of pool cleaners that offer a much more varied product line that gives you more versatility and customization to suit the specific needs of your pool.
Not all pools are the same, therefore not all pool cleaners can perform at a uniformly high level that's optimum for your pool. Those who have larger pools or free-form designs with only curves and no right angles need a different kind of pool cleaner than the kind for straight, rectangular-shaped lap pools.
As such, Polaris has a product line that is versatile enough to accommodate nearly any type of pool. The three models featured in this guide represent their diverse variety and the quality of their pool cleaners, that accommodate specific needs. The positive reviews of these Polaris pool cleaners from consumer sites like Amazon are a testament to their quality.
So whether or not you have a pool that is designed to work with pressure side pool cleaners or you have one that requires more automation and self-direction than other models, the three Polaris pool cleaner examples featured here should be unique enough to address your specific pool cleaning needs while still offering a high level of performance.