Preface - How To Get the Pool of Your Dreams: Designs, Shapes, and Options That Suit You
Considering a quality in-ground pool for your property? With seemingly endless possibilities to choose from, shopping around for a pool that meet your needs and desires on every level can be a daunting task.
But that need not be the case for you. Read on and discover what you need to know before you begin the process of talking to pool contractors.
The purpose of this article is to provide you with a foundational understanding of today's available options so you can make the best choices for you and your family.
Having a backyard pool is one thing. Transforming it into a place for family fun, entertaining guests, recreation, or just being able to relax and unwind is something else entirely.
Today's in-ground swimming pools are so much more than holes in the ground filled with water. For many, their pool has become a backyard oasis. It's no longer just a place to enjoy a dip, but a beautiful haven that's a stunning extension of their homes.
It's right there. Yet, it's distinct enough to provide an escape from the stresses of day-to-day living.
In-Ground Pool Shapes
At one time most pool installations all looked the same. They were basically box-like, rectangular holes in the ground, without much else, except maybe a diving board. These days, pools can take any shape - geometric, freeform, or completely custom designed. So the skies the limit.
Most of today's pools are made of concrete or fiberglass. Both options are durable. However, only with concrete are the design possibilities virtually unlimited. Concrete also provides the best return on your investment in terms of durability and customization.
When kidney shaped pools emerged, they were all the rage with their gentle curves and free-flowing lines. These provided consumers with a choice that was dramatically different from anything else on the market - at least in a visual sense.
These days, fiberglass pools come in numerous shapes, while concrete pools can be built however you want. They can accommodate even the most unusually-shaped yards.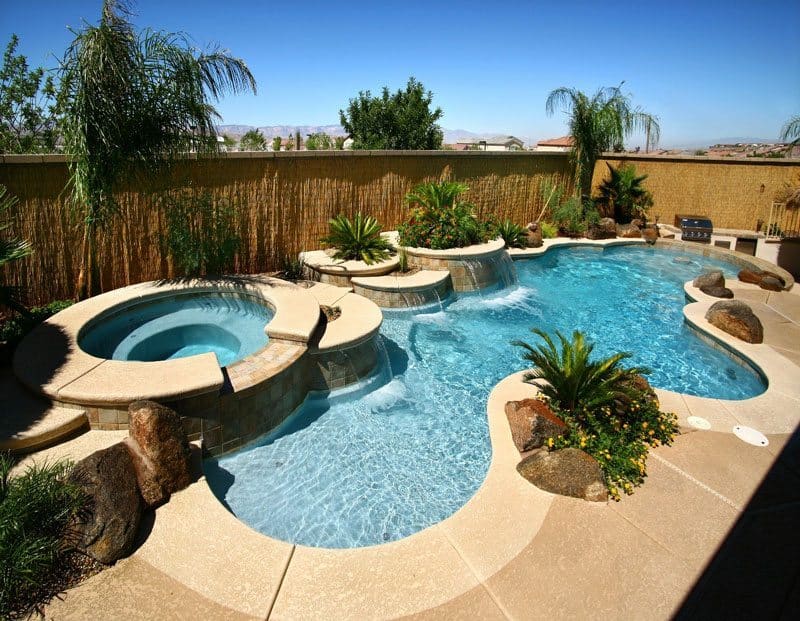 The possibilities are endless. In a lot of suburbs, the majority of backyards are either rectangular, or square in shape, so it might make sense to build a pool that maximizes available space. On the other hand, you might prefer a smaller pool, one that doesn't necessarily dominate your yard, yet still provides the full benefits of a pool.
Square, circular, and rectangular pools continue to be popular choices. Rectangular pools are ideal for swimming laps and playing volleyball. Circular pools are a great option for smaller yards where you don't want the pool to take up all of your available space.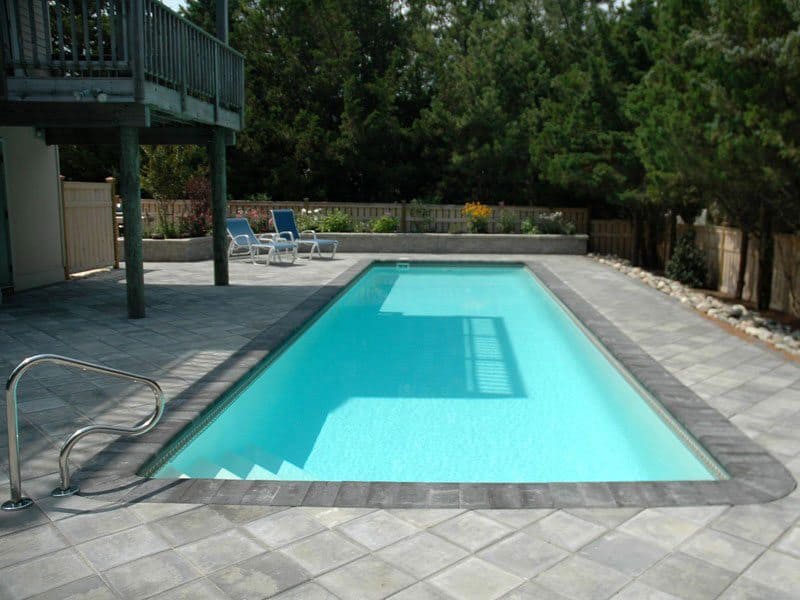 Free form pools are defined by their smooth and gentle curves and free-flowing lines. Free forms have a more natural look and feel to them. They help create a backyard oasis that's both liberating and relaxing. Well the kidney shape remains a popular freeform pool, other options are now available in both fiberglass and concrete. But you're not limited to a prefab design. When it comes to creating your dream pool – anything is possible.
In-Ground Pool Designs
Swimming pool designs can be simple and straightforward or detailed and complex. For some, it's all about functionality. For others, the sheer beauty and artistic flair applied to the entire environment is at least equally important.



Typically, the swimming pool itself represents a significant percentage of the total costs. But it's all the extra amenities penciled in by a skilled pool designer that can turn your backyard into your own private retreat. When you do that, you've got not just a pool, but a sanctuary. It's sure to quickly become a favorite place to escape and unwind, while you enjoy the great outdoors.
When it comes to the "extras" you may want to have built into your backyard paradise, one possibility is to include a grill and kitchen prep area. With the right design, you can enjoy meals and snacks poolside, without having to leave your favorite place.
For pool parties and large family get-togethers, you'll be able to prepare and enjoy fresh grilled foods beside the pool is an added luxury. Having a grill, pizza oven, and food prep area as part of the design is sure to makes every event you host, that much more special.
Pool Finishes
You can choose from a wide array of colors, materials, and looks to suit your personal taste, lifestyle, and to complement your home. It's important to take into account not just the pool itself, but the entire area around it. This is where an experienced pool designer can be a tremendous asset to have on your team.
Skilled designers can take a nondescript yard and turn it into a haven of natural beauty, complete with waterfall, picturesque rocks formations, and exquisite landscaping.
Or, perhaps your perfect oasis is a more contemporary look with clean lines, spectacular lighting, and a beautiful tiled deck area. It's all possible. What really converts a swimming pool into a thing of beauty and elegance are the design details, such as the finish that's selected.
Not only is the finish critical to a pool's appearance, it's also the key to making your pool more durable and less susceptible to accumulating dirt.
Aggregate Finishes
Aggregate Materials are the latest generation of finishes for in-ground swimming pools. They are easy to maintain and are offered in a broad range of colors and textures. Another feature is that they may contain small pieces of various materials like river stones, glass beads, quartz, or granite - which is added into the mix.
Aggregate finishes provide a luxurious finish and are therefore increasing in popularity. They're also highly resistant to chemicals and stains. Expose particles within the aggregate provides increased traction - another desirable advantage.
Plaster
Plaster is the longest-serving pool finish on the market. It consists of a mix of Portland cement, water, and either silica sand, or marble dust. Traditionally, white plaster was used and is still a popular choice today for those wanting a classic pool look.
But plaster can also be mixed with color pigments to deliver drama and dimension. For example, a medium gray pigment produces a look of beautiful, blue water. Darker pigments (gray or black) added create the appearance of depth, like a lake or pond. It also creates a mirror effect where the pool's surroundings are reflected on the surface of the water.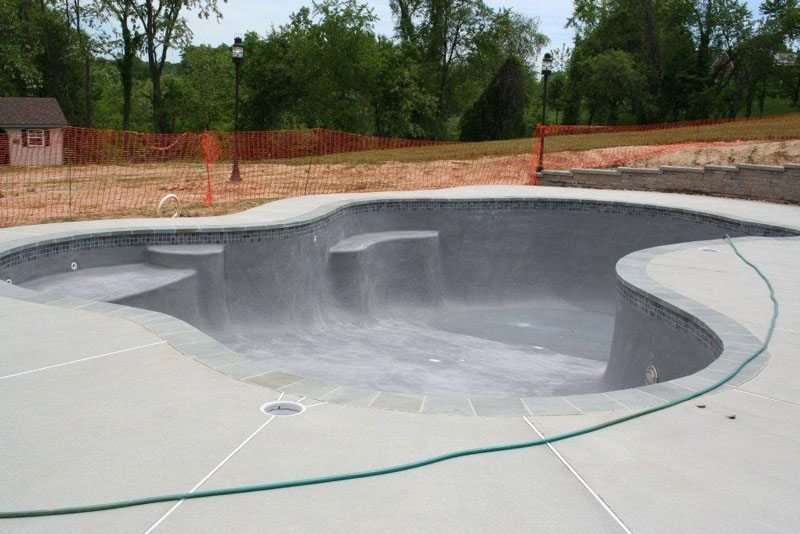 Tiles and Mosaics
Tiles of all kinds are a top choice as a finish on pools. Tiles deliver maximum durability and offer unlimited design possibilities. A common practice is to apply a row of tile to the water line. This provides a colorful accent and gives your pool and attractive finishing touch that draws the eye.
With tile, you can go as upscale and artistic as you wish. It takes longer to complete the job, but the results are usually stunning and long-lasting. You're not limited to a decorative strip on the water line either. You could have the entire surface tiled for the ultimate pool finish.



Tiles are available in ceramic, glass, stone, and porcelain. Colors, shapes, styles, and sizes vary wildly. Once again, a designer's keen eye can make a world of difference.
Mosaics offer additional design possibilities from simple to ornate. Create any look you want from Mediterranean to a floral motif. Tiles can also be hand-painted in any design you wish. You can even have your company logo or favorite sports teams logo with you forever. This kind of detail adds a truly unique touch to the walls or floor of your pool.
Glass tile is nonporous and completely resistant to moisture, so it won't stain or breakdown. Glass magnifies light producing a bright shimmer no other finish can match.
Coping
The edging that adorns the perimeter of the pool known as the "coping" provides a nice finish and transition to the deck area. It's also serves an important role as a safety marker. Coping is typically available in stone, brick, or concrete (which could be finished in multiple ways). Natural stone coping provides excellent traction and looks great too.
Pool Decking
Decking is the wider ground covering material that surrounds the pool - or more specifically, a pool's coping. Materials used for decking include pavers, porcelain, and cement. Some options are more slip resistant than others, while certain materials are a better fit than others from a design perspective - like stone to create a more natural looking environment.
Pool decking can be made of patterned concrete, tile, brick, stone, or even wood. Effective decking should last many years and save you money in the long run because it doesn't break down.
A deck provides a buffer area that protects the grass, shrubs, and flowers from the harmful effects of chlorinated water that can splash from the pool. It also should allow adequate space for pool chairs and lounges, while providing a walk way around the pool.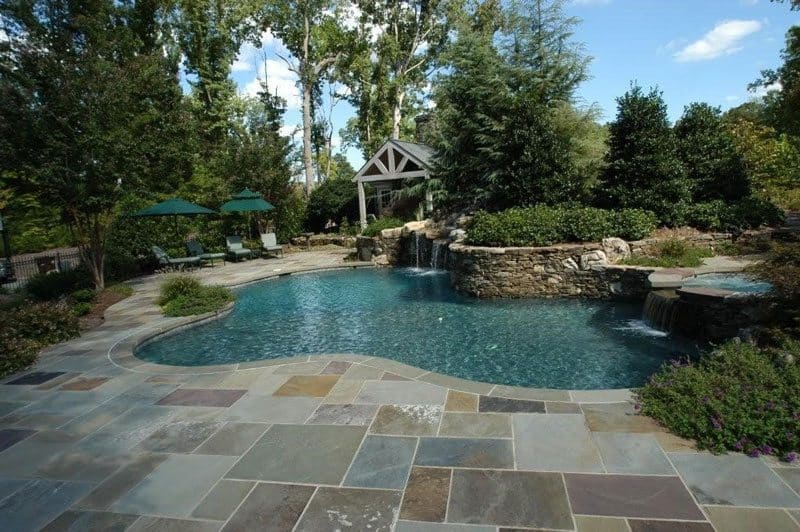 One excellent option is travertine. Travertine is a natural stone that's slip resistant, with an anti-skid surface. Water naturally and quickly runs off its surface, making it one of the safest materials to use as decking.
It's a low-maintenance product it's easy to keep clean and you won't have to constantly reapply sealer or other protective coatings either. Travertine stones are thick and dense.
They are extremely durable and hold up really well. Travertine can take a variety of shades. So you'll want your designer to handpick pieces from available stock, if possible.
Since travertine is waterproof as well as stain and mildew resistant, you'll never have to worry about getting it damaged. It won't freeze and crack like some materials do. Another advantage is that unlike cement, travertine won't absorb direct heat on those blazing hot summer days.
If you've ever tried to walk barefoot on a cement sidewalk baking in the sun for hours, you'll value this special quality that travertine possesses.
Pavers
Pavers are economical manufactured ground-cover products composed of brick, stone, and concrete. They are resistant to both chlorinated and salt water, the two most common systems for maintaining safe, algae-free pools. Pavers are also a good choice for kids and seniors because of their somewhat course, non-slip finish.
Pavers can be used with or without mortar. Naturally, it's less expensive to go without. What's particularly good about using pavers for your decking is that they are super easy and cheap to replace on an individual basis should any become damaged. It's also an easier fix when there's no mortar in the way.
Lots of design options are available when it comes to pavers. You can also order them in different colors and designs. You can even order pavers with custom-designed stamping. They can be stained, painted, or have aggregate material (like stones, glass, or quartz) added to the mix during the manufacturing process.
Although they are an affordable option off the shelf, any customization would obviously add to the cost of the material.
Another option with pavers is to mimic the look of something far more expensive - like marble or slate. Pavers are eco-friendly products in that they are made in part from locally-sourced recycled materials.
Pool Lighting
Having the right lighting makes all the difference. Lighting creates the perfect ambience. It also helps make your pool fully functional and safe at night.
Nothing adds elegance like a professionally-installed lighting system. Like all aspects of pool construction, lighting should not be a do-it-yourself project. Leave it to the experts who've done it many times before and you're more likely to be thrilled with the results.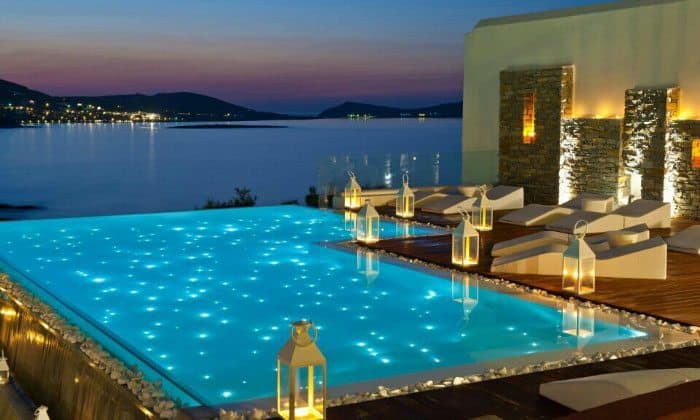 Today's options include energy-efficient LED and fiber-optic lighting in a multitude of colors and arrangements. Not only will the right lighting set your pool apart, it will also allow you to enjoy your pool area after dark.
Waterfalls
Another finishing touch that can be added to enhance your property and your level of enjoyment is a soothing rock waterfall that flows into the pool.
It's enchanting and relaxing to sit next to a gentle waterfall as the water cascades over the rugged rock. That's just one option. Another is to have the water flow quietly off the sheet of glass. This modern design can be the accent piece that completes a sleek, contemporary look with straight lines.
The beauty, charm, and relaxation qualities of a cascading waterfall are tough to beat. Once your waterfall has been incorporated into the design, it's yours to fully enjoy whenever you're out by the pool.
Water Fountains
Fountains are another option to provide a fun visual element, poolside. Water fountains can be programmed to coincide with light shows and music -all controlled by a smart phone. These special-effects, inspired by the beautiful fountains of the Bellagio Hotel in Las Vegas, make it possible for you to entertain guests in ways you couldn't before- right in your own backyard.
Want something more? How about a multi-level pool with the vanishing edge? Or a raised spa, complete with spillway that flows into the pool? Let your imagination run wild. Then talk to a professional pool and landscape designer and let them help you bring your ideas to life.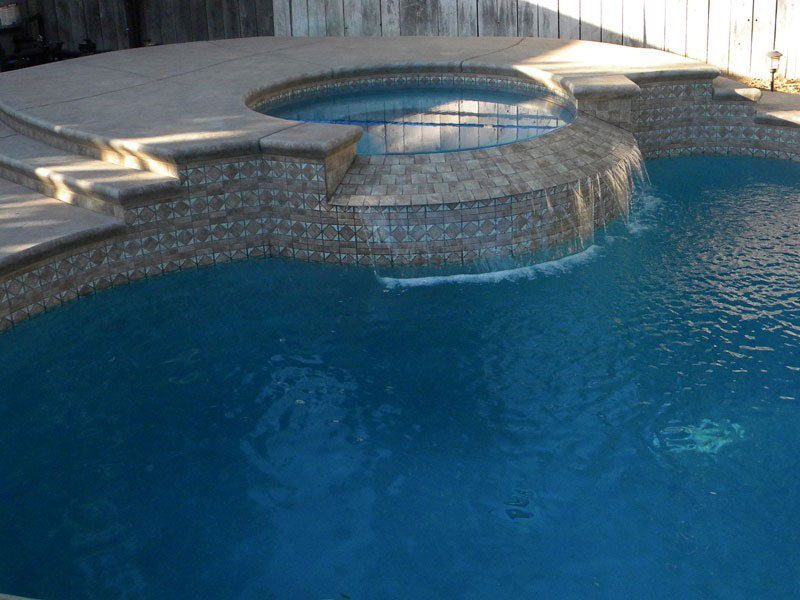 Perhaps a natural "swimming hole" or sleepy Lagoon is a better fit, or more your style. Another option is to create an ultra-modern backyard spa. Whatever you want could be yours.
Spas or Hot Tubs
Add the comfortable, therapeutic effect of a spa to your pool area and life will never be the same again. Feel the stress and tension of the day melt away as the bubbly water emerges from the built-in jets and gently soothes your aches and pains.
Having a spa next to your swimming pool is a luxury enjoyed by many pool owners. But there are other options too, if having a spa is something of interest. Today's options include pools designed with swim lanes and active currents.
A spa and pool combination gives you the best of both worlds. You can soak in the spa, swim laps or simply float in the bright sunshine.
Acting as both a pool and spa, these combination units feature a single body of water. Essentially, it's a pool and hot tub and one. These pool/spa's are smaller than a standard pool, but larger than a standard hot tub. Water temperatures can be changed for multi season use. For therapy or simple relaxation, the built-in high pressure massage jets feel invigorating.
Swim jets generate a current-like condition. It gets you moving in the water the way a treadmill gets you moving at the gym. This provides the fitness benefit of a full-size pool while occupying a smaller area and costing significantly less money.
Plunge Pools
Plunge pools are another option for limited yard space. These are deeper pools that don't take up a lot of area. These pools are perfect for a refreshing dip on a hot summer's day. Plunge pools have a ledge built in that surrounds the outside, making it perfect for seating.
Deeper than most pools and without any graduated steps, a plunge pool is like the swimming hole you find while hiking in the woods. In fact, you could have it designed to look that way. It's like having your own personal oasis that just happens to be in your backyard.
Design is a personal choice and the rugged swimming hole look is just one option. When space is limited, you might want to consider installing a plunge pool.
Renovating Your Existing Pool
Fiberglass pools are prefabricated and cannot be changed. Concrete pools, on the other hand, can always be modified or crafted in any shape, size, or configuration you wish.
When your pool shows sings of where and tear, it may be time for a renovation. Another sure-fire symptom is when your pool becomes increasingly difficult to maintain, or it simply looks outdated. When that's the case, it may be time for an overhaul.
There's no point in giving up your pool like some people do. After all, you've already done the excavation and have the structure in place. Instead of filling it in, why not renovate and upgrade?
How do you know when it's time for change? Look for cracked concrete, missing tiles, or a tarnished, aged look. These are all signs that a makeover is in order. And it's less expensive to overhaul your pool than to start from scratch.
Salt vs. Chlorine
It's been going on for a while and the debate between salt and chlorine rages on. But it isn't a case of one being better than the other. Both systems work. But you need to understand the basics before choosing one over the other for your pool.
Chlorine has an extensive track record of performance. It's been used by pool owners everywhere for many decades. Salt is a more recent system, first making an appearance in the 80s.
Both chlorine and salt systems use chlorine to cleanse, sanitize, and disinfect. With one system, you add chlorine tablets regularly, while the other system converts salt into chlorine.
Both systems require maintenance and attention for maximum protection. Chlorine systems seem to do the job in less time. But it requires you adding more chlorine to the water on a consistent basis.
Salt water systems are more costly to install. But once established, require less maintenance and lower overall operating costs.
Although salt systems convert salt into chlorine through a process known as electrolysis, the amount of chlorine in a salt water pool is far less than the chlorine maintained pool. This is important to note for anyone who may be sensitive to the chemical.
However, if you're considering a salt system, you need to check your city's regulations. Some areas have banned the draining of salt water pools into the sewer system, with stiff fines promised.
The Starting Point
In a perfect world, what kind of pool would you most love to have in your yard? That's the place to begin. If you can dream it, you can have it built for you.
Of course, budget is an important consideration for most of us. But if you could have anything you wanted, what would you choose? Start with the dream pool - one that would be absolutely perfect for you and your family. Then, prioritize the elements you want.



Deciding to invest in an in-ground pool is not a spur-of-the-moment decision. There's a lot thinking behind it. There are plenty of decisions that need to be made and each of those decisions will impact the final product. So it's best to accommodate your needs and desires if at all possible. Don't rule out something you think you want until you have to.
A pool is something that should serve you and yours for years to come. While costs can be significant, you need to consider the long-term pleasure a beautiful pool will provide. This includes hours of relaxation, outdoor enjoyment, and exercise too.
That's at least part of what your pool will give you. And there's no reason why it can't deliver ear after year after year.
Start with the elements and options that would give you the most satisfaction. Assess your backyard space and consider potential sizes for your pool. Would you want it to blend in seamlessly with the rest of your yard, or will your pool take up most of the area you have available?
Planning
There's a lot that goes into planning an in-ground pool. You've got to factor in the size and shape of your yard and where the best location might be. Another important consideration is how you expect the pool will be used. Will you primarily use your pool for relaxation, exercise, refreshment, or summertime family fun?
Anticipated uses should influence the size, depth, shape, and special features that are most in alignment with the projected usage by you and your family.
It's important to consider the obvious, as well as the not so obvious details. Again, that's where it's nice to have the voice of experience to lend their expertise. Your designer will take into account the interior and exterior views, exposure to sunlight, privacy and other factors in determining the best possible location and layout.
Possible features include decking, waterfalls, lighting, change room/washroom, cooking area, and landscaping. Landscaping is often the final piece of the puzzle that ties everything together in a beautiful way. Features that are most appealing to you will help to create an environment that suits you. This is important so that you can enjoy the total backyard experience.
Plenty depends on the size and shape of your yard. Your individual preferences and tastes are key considerations as well. When you see the beauty and functionality others have designed and installed, it can provide helpful ideas and inspiration for your own environment.
Small Yards
Don't be put off because you have a small yard. Limited space doesn't mean limited opportunities. Multiple shapes, designs, and special features are likely available to you, no matter how small your yard is. In fact, skilled pool designers often consider it a personal challenge to create a backyard environment that matches their clients dreams, despite the perceived obstacle of limited space.
It really depends on what you're looking for. One popular option among city dwellers these days is a plunge pool. This is a small but deep body of water - one that provides the irreplaceable value of being able to plunge into a pool on a hot day - without requiring a lot of yard space for such a luxury.
Do It!
Your pool will be the pride and joy of your backyard. It might even be the talk of the neighborhood. When you plan and design it based on your needs and desires, you'll be thrilled with how your pool turns out. It will quickly become your go-to area for tranquility, sunshine, fresh air, and exercise.
And it's sure to become a favorite gathering place for friends and family too. Just being there will bring a sense of joy. It's where bonds grow stronger and lifetime memories are created. So it makes sense to get the pool you want. After all, don't you deserve it?