Preface- The Hayward HP21104T is a legendary heat pump pool heater with amazing reviews. Costing over $2.7K is this a safe investment for your pool?
An in-ground swimming pool can be one of the best back-door recreational features of your summer. But with cooling temperatures in the spring and fall, it limits the time you get to spend enjoying your pool. One of the best ways to extended the seasons of your pool and enjoy it more thoroughly in cool evenings is with a pool heater.
If you have a smaller in-ground pool and want to heat it up so that it can be enjoyed more often so you can avoid frigid dips, then the Hayward HP21104T might be the right heater for you. Our review of this model will give you everything you need to know in deciding if this will compliment your swimming pool.
Meet The Hayward HP21104T Pool Heater
This heater puts out around 110,000 BTUs which can heat a pool (depending on its size) up to 104 degrees Fahrenheit. Now, whether this is the right heater for your pool will depend on upon several factors. Roughly speaking, at 110K BTUs, this unit will heat up a 15 ft. x 30 ft. pool ½ a degree every hour.
So if you have 15x30 pool and are wanting the water temperature up by 5 degrees it would take this unit roughly 10 hours to accomplish this. Generally speaking, this unit is good for pools ranging from 1,000 to 10,000 gallons of water.
This may not sound like a lot, but remember these heaters are not meant to give you hot-tub temperatures, they are meant to give you a pleasant swim, and the different between frigid and pleasant can be as little as a few degrees on a temperate day.
This model uses an easy to read digital thermostat so that you can simply select your desired temperature and the heater does the rest. You can increase or decrease the temperature of your pool with the touch of a few simple buttons.
Hayward has designed this unit to be almost completely resistant to corrosion. The titanium heat exchanger is the strongest material, almost military grade like (in fact it's used in marine operations) that will not corrode even under extreme conditions.
The casing comes with "ultra-gold" evaporator fins which keep moisture from building up and raises its ability to resist corrosion even in the toughest climates. This makes the HP21104T an excellent choice for those who live near the ocean where there is a high chance of salt-water damage.
The vinyl coated fan guard keeps particles, dirt, and debris from entering the heat exchange and damaging the pump, another great layer of protection on your investment. And all the nuts and bolts within the unit are made from stainless steel, another layer of protection against rust.
The unit weighs a little less than 200 lbs. so it is a good idea to have some help if you are setting it up yourself. It is approximately 3 ½ feet high and 2 ½ feet around. So, you need to find a spot out of the way where it will not be seen that is still convenient for running the plumbing lines.
It operates at around 60 decibels which are somewhere between the noise levels of an average sized office and a washing machine. That's fairly quiet for a heating pump this powerful. You should have no problem with noise while you heat up your pool, plus if you're entertaining your guests won't even know it's running most of the time.
Where Heat Pumps Excel
If you want to use your pool daily, or need it to be kept at a constant temperature, heat pumps are very effective. They can save up to 70% when compared to gas heaters, if you need to leave yours on most of the day.
They do need a bit of warmth to operate effectively and they do not perform so well when temperatures are below 60ºF. You can burn quite a lot of electricity here if you are trying to warm up very cold water.

But if you don't want to mess around with upgrading your gas lines, or have recently just dug up your garden and don't want to mess with it again, they offer great convenience.
If you really want to get the best out of this pool heater, you should also consider purchasing a solar cover for your pool. Solar covers trap and transfer the heat from the sun to your pool, making less work for your heater when you're ready for a swim.
By keeping the average temperature of your pool a few degrees higher, you can increase the life of your heater because it will not have to operate as much to keep your pool warm.
One thing you may consider with this Hayward model is that it is only really effective for pools around 10,000 gallons and those in moderate climate. If you have a larger pool, or if you are in a colder climate, this model might not be able to get the job done effectively.
What Is the Warranty on the HP21104T ?
Hayward has included a generous warranty on this model because they know it is high-quality. Different parts of the heat pump have different warranty terms. For the general parts and equipment, the Hayward warranty lasts for 2-years, including 1-year of labor. For the compressor, there is a five-year limited warranty with includes 2-years of labor.
And for the titanium tubing within the compressor, Hayward carries a 10-year warranty. You can be sure that if there are any manufacturers defects occur within this time-frame, Hayward will stand behind its heat pump.
In order to further protect the unit, it is advised that you consider a cover for the heater during the winter months. Leaving the unit exposed and in low temperatures can adversely affect its performance long-term. By keeping the unit covered, you reduce its exposure to the elements and increase its longevity.
What Do I Need to Install this heat pump?
First, you should know that Hayward recommends that qualified electricians and pool technicians should install this unit. It is best for this not to be a DIY experiment. The unit is well worth the money, but not if you mess things up during installation.
You will need to have a level space for the unit to sit because it is not recommended to be installed on any inclines. The plumbing connections you will need to hook up the unit are 2" by 2 ½" CPVC fittings. In addition, you will need a 60 amp electrical line (240V) running to the unit.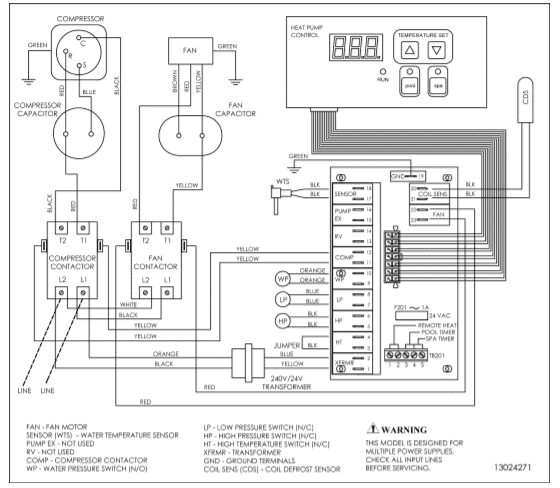 If you feel qualified to install this unit yourself, you should consult the owner's manual thoroughly to avoid voiding the unit's warranty and ensure that you are installing it safely.
What Is AHRI Certification?
This unit is AHRI Certified, but what does that mean? AHRI is the "Air Conditioning, Heating, and Refrigeration Institute." The AHRI is an independent organization that sets high standards for HVAC and refrigeration products. Companies must submit their products to the AHRI to undergo rigorous testing against their high standards.
Products with the AHRI Certification have met these high industry standards for quality and efficiency. Only the best products receive the AHRI Cert stamp, so you can be sure they have the highest quality components and function as advertised.
Heat Up Times
Buyer Beware
With the average price of electricity ranging from 12 cents to 20 per kilowatt, electricity bills can spiral. If you want to see how much your State pays for electricity click here. Idaho pays the least (8 cents) and New York pays 18.1. So if you are running a heat pump for an average of 4 hours per day in New York it will cost approx $150 per month.

Although in colder states like Idaho heat pumps will have to work harder to heat your pool and a gas heater may be more economical. This heat pump also needs an outside air temp of 60ºF to effectively work.
Tip- use a pool cover at night to retain the heat inside your pool. Your heat pump will have less work to do to heat your pool to your desired temperature.
Conclusion
Heat pumps operate quietly and when this is running you won't notice it is there. Given the right climate you can reduce your running costs by up to 70% when compared to gas.
The downside is it can take longer to heat up your pool. Especially at the start of your swimming season. You may have to run it 10-12 hours if your state is chilly.
On the upside though, if you use a solar and pool cover at night, your pool will retain it's heat and you will have to run it less time the next day. Use it in combination with a variable speed pool pump and it will be more effective.
So, if you're looking for a good heater that will resist all sorts of rust and corrosion, and keep your pool at comfortable temperatures, then the Hayward HP is a great choice.
If your pool is around 10,000 gallons, this heater will effectively keep your pool at moderate temperatures through the spring and fall, as well as those cool summer nights. There's no need to be scared when jumping in the water. With your Hayward heater, you'll know it will be the perfect temperature every time!
The pool is one of the great outdoor recreation features, there's no reason not to enjoy it for as much of the year as possible.